Fueled by a lifelong friendship
Every Franki Ray leather creation is uniquely designed and constructed of the finest materials by the hands of artisans. These couture-qualities make our goods the ultimate companion for all of life's most beautiful moments. The sophisticated exteriors and vivacious interior patterns are a perfect fit for the rebel-hearted as you embark on your daily routine or travel the wonders of the world.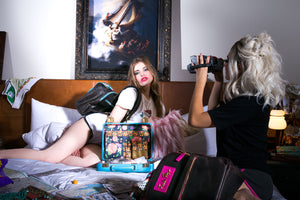 ON THE LAM
It wasn't until now that the elusive bandits were unmasked, still on the lam with nothing in hand but a Franki Ray . . .
Our Inspiration? The Coup of the Century; the Isabella Stewart Gardner Museum Heist of 1990. 
Shop the Lookbook